Culture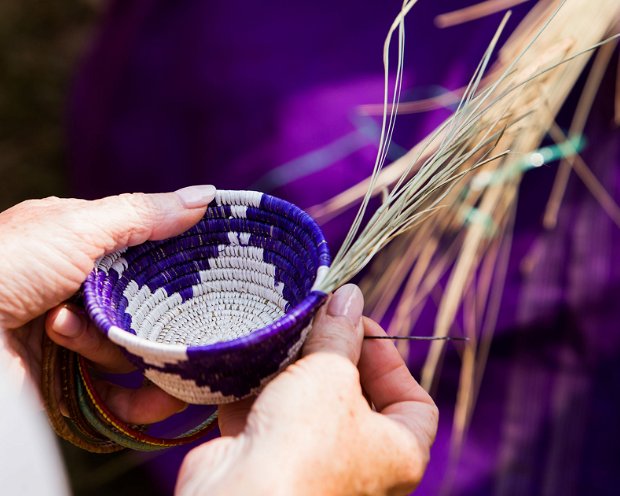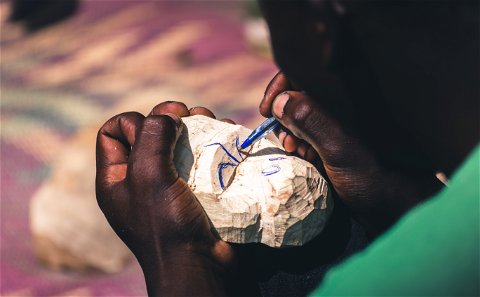 Carve a Gorilla
+/- 3 hours
This activity is carried out on-site at Chameleon Hill Forest Lodge.

Expand your creativity by joining a talented carver who will guide you through the process of carving a gorilla. Experience the master at work as you create your very own piece to take home.
A truly special souvenir! 
PLEASE NOTE: We only use Eucalyptus wood which is an alien species in Uganda!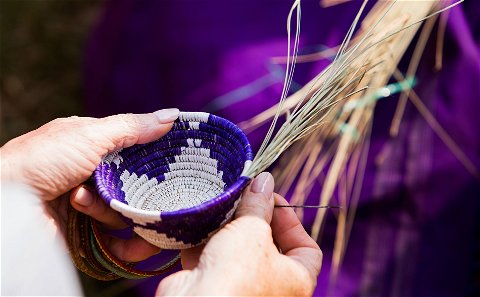 Weave a Traditional Basket
+/- 3 hours
This activity is carried out on-site at Chameleon Hill Forest Lodge.

Why not try your hand at a traditional craft such as weaving? Let a local weaver introduce you to the skill of basket weaving as he/she demonstrates the technique and materials used for you to create your own small basket to take home.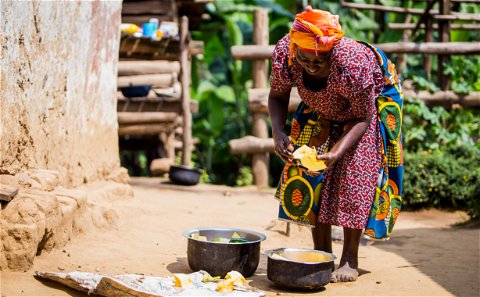 A day in rural Uganda
Full Day
This unique culinary experience commences with a dugout canoe ride to the other side of Chameleon Bay. On arrival you will be greeted by the farmer and his family. Explore the fields and harvest your own potatoes, pumpkin flowers or other seasonal, organic fruits, herbs and vegetables. Join your host in the homestead kitchen as you help prepare a traditional dish over the open fire. Enjoy the meal together with the rest of the family as you learn more about their rich cultural heritage, listen to storytelling and local music instruments. This hands-on, very personal experience allows you deep insight on how local farms are run and provide a livelihood for so many.
In the afternoon stroll through the nearby village and get a brief lesson in the local, native language Rukiga, before arriving at the school. Now we hand over some much-needed school supplies and meet the pupils and teachers.
In closing the day, you hop on a Boda-Boda; a short ride takes you back to Chameleon Hill.
A truly authentic African experience to remember!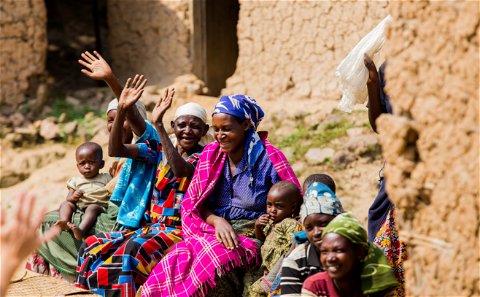 Local Neighborhood Walk
Duration can differ
Starting right at the property, our in-house guide will walk with you in our neighborhood. You never know who you will meet or what you will encounter!
You will pass by homesteads, meet children fetching water, observe villagers grazing cows and goats and go about their daily business. You will most probably pass by a smoking kiln that burns clay bricks. Learn how we build houses in rural Uganda. If it's a Sunday, and this is of interest for you, we visit the charismatic church service on top of the hill. What an experience!
You can ask as many questions as you might have and be sure to get many stories from Amon, Herbert, Spensa or whoever will take you on this adventure.
A truly authentic African experience to remember!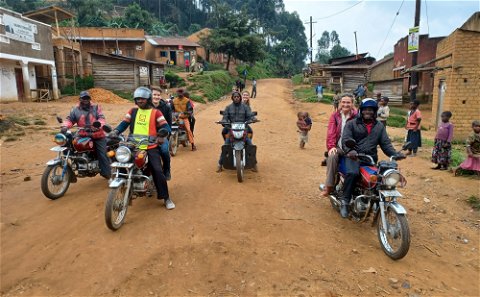 Boda Boda Tour
Duration can differ
A Boda-Boda is a motorcycle taxi commonly found all over Uganda.
The name comes from their original use - ferrying people across the no man's land between Uganda and Kenya. "Border border," the drivers would shout. And so border border became, in time, Boda-Boda. For thousands of young Ugandans, Boda-Bodas are a vital way to try to make some honest money. Every household and business have their "own" Boda driver. They pay bills for you, they deliver food, charcoal, medication, and fuel for generators.
Our Boda driver Abel even goes to the bank for us. He is the master of our shopping lists - he knows where to refill our gas cylinders, which flour we like for baking and where to get it, the cheese we like (and the one we don't), where to get sugar, fresh milk and simply everything we might need, even on very short notice. On this tour you get to experience the Lake Mutanda area in a fun way. You smell the smells and you see the sights. Travelling on a boda immerses you into your surroundings, there is no window between you and the world. Our friendly drivers are professional and knowledgeable. They are flexible about the itinerary and will accommodate all the things you want to see while driving carefully and considerate. You will feel safe on the bike with them at all times.
This is a great way to get around and although it can be a bit bumpy, it's also lots of fun!