Giving Back - Community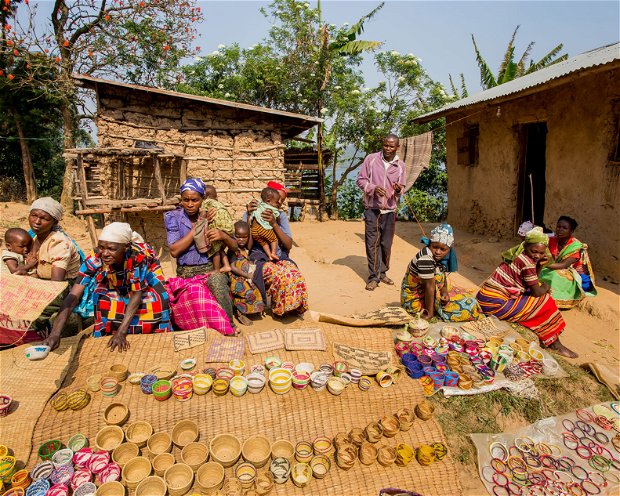 Lake Mutanda Island Development Project – Education, Health, Environment. Mutanda Island, located at an altitude of 1.790 meters, is the biggest of all the islands on Lake Mutanda, in the Kisoro District of Uganda.
In winter, Kisoro is the coldest region in Uganda and estimated to have one of the highest population densities in Uganda. Lake Mutanda is located in the south western part of the country bordering DR Congo to the west and Rwanda to the south. This volcanic region is well known for the Virunga mountain range. The mountain peaks and surrounding parks are protected by Uganda Wildlife Authority since they are a home to 500 strong populations of the only 900 remaining mountain gorillas, and Golden Monkeys among others.
Lake Mutanda is one of a dozen volcanic lakes in the area, designated as fresh water lakes due to springs and streams in the area. The fish population has been dramatically reduced to over-fishing and changes in climate and pollution. We visited the community on Mutanda Island in August 2015 from our base at Chameleon Hill Lodge a few miles across the lake. Based on that brief visit of a few hours it was evident that the population was living in a state of considerable poverty and deprivation.
Immediate access to reasonable education, medical facilities and communications is almost impossible. The nearest hospital is some 15 kms away, overcrowded and only accessible by boat/canoe. According to WHO in 2013 in Uganda, the doctor: patient ratio is 1 for 24.725; and the nurse: patient ratio is 1:11.000. By comparison, in Germany for every 1.000 of the population there are 3.8 doctors.
It is estimated, in Uganda, that EVERY day 16 women die during childbirth. Aside from the typical diseases, Uganda is experiencing a population explosion with a rate of 3.22% p.a., and with almost 70% of the population 25 years or younger. Infant mortality is almost 60 per 1.000 live births.
It becomes self-evident that family planning is a crucial aspect of development.
Establishing a Health Clinic on the island of Lake Mutanda will improve accessibility to primary health care, enabling the better treatment of primary disorders and ensuring only more serious and deserving cases are referred to the next tier of medical care. Secondly it will assist in the education of family planning and provide the means to contain the population growth, which at present rate will result in the unsustainability of life on the island.
Aside from the inadequate transportation between the island and the mainland, which relies on boats and canoes, the inhabitants are very poorly educated. The "church" serves not only as the church, but also the one and only classroom as well as the meeting location for the community.
Currently there is one "teacher" who provides some education to the 20+ children in one class whose ages range from 4 to 20 …..It's an impossible task, especially as there are virtually no teaching aids. There is not even a blackboard and hardly enough benches for the children to sit. There is thus a desperate need to erect some dedicated teaching facility that is adequately resourced (teachers, materials and desks) to provide not only some basic education skills such as reading and writing, but beyond.
In a way it is a "forgotten community" from which few can escape and advance.
Project Goal
To raise the literacy and health level of Mutanda Island Community as well as improve lake transport system and agriculture for an economically empowered community.
We have been able to assemble a team of dedicated and competent personnel who have the capacity and capability to assist the inhabitants of the island to improve their daily lives. We have been able, through discussions with the community leaders and local authorities to design a project that when built will meet these goals. We operate as an NGO, officially registered with the NGO board in Kampala.
The project team is currently driven by the following:
Doris Meixner, who designed, built and owns Chameleon Hill Lodge, located some 5 kms from the island, was born in Germany and commutes regularly between Cape Town and Lake Mutanda. Doris will be the local in situ coordinator of the project. She has considerable experience in handling the issues the project will face as well as having contacts to the respective local authorities and education facilities. She also retains strong connections with Germany and hopes to attract interns to the island to serve for short periods as doctors and teachers.
Doris and the management staff of Chameleon Hill will control all matters locally including the management and dispersal of funds to contractors etc.
Donor Relationships
Currently funding is being raised and processed in the UK and/ or Germany. This can be developed should there be donors from other countries. The structure is designed to assist donors to benefit from taxation facilities with their countries. It will be important to provide feedback to donors of the progress of the project and as such donors, who so wish, can get in touch with us to receive regular feedback and updates on developments.
Written by Roger Trythall.
Pack for a Purpose
We are proud members of Pack for a Purpose, an initiative that allows travelers like you to make a lasting impact in the community at your travel destination. If you save just a few kilos of space in your suitcase and take supplies for the projects we support in need, you'll make a priceless impact in the lives of our local children and families. Please click here to see what supplies are needed for our project/projects.