Lake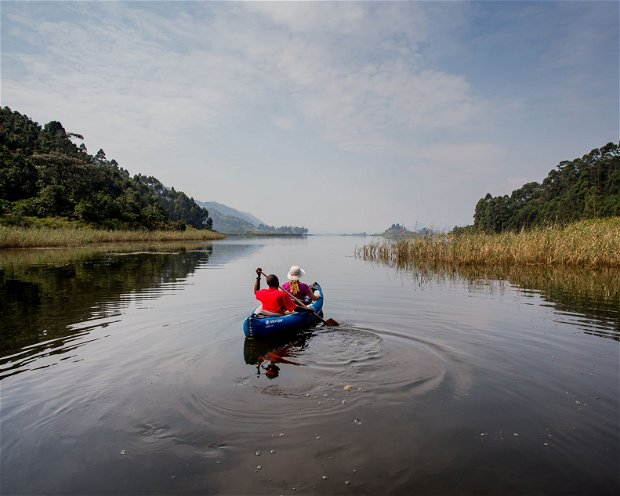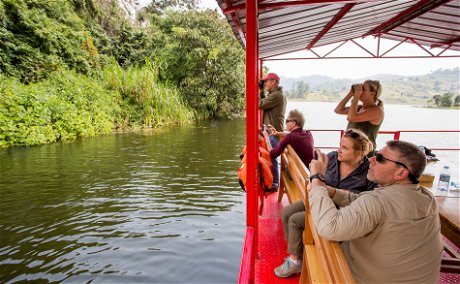 Power Boat
Our happy-red pontoon boat can transport up to 20 people and is the ideal transportation to explore the islands of Lake Mutanda, some with historic back ground, others with almost forgotten communities. A visit to Skeleton Island, the name says it all...., will be unforgettable. The boat has a roof to protect you from either sun or rain, and comfortable seating for you to enjoy snacks and drinks. The crew consists of a captain and a deck hand / guide.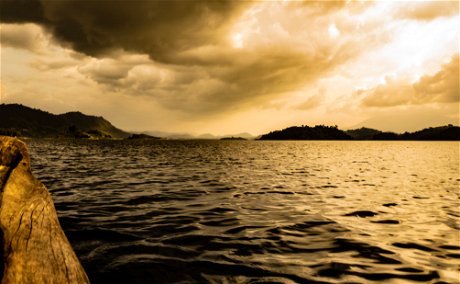 Traditional Canoe
This is a unique boating and sightseeing experience. Enjoy an exciting tour by creating a personal and memorable excursion. You will be paddled by a local community or staff member along lakeshores with amazing bird watching. Listen to sounds of nature while you float seated in a local dug out canoe. This is the only way to enter narrow, remote waterways in the wetland areas.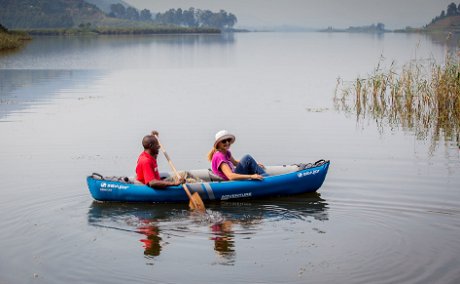 Inflatable Kayak
Our high-quality inflatable kayaks, imported from Germany, guarantee a fun filled time. You have the opportunity to explore the lake (unguided) and observe the surrounding scenery from a different perspective. If you enjoy birdwatching, this is the way to go! You can paddle along lakeshores with forests, marsh land and swamps. The ideal habitat for a variety of birds, including the crested crane, the Ugandan national bird. With some luck you might even have an encounter with our beautiful, resident Chameleon Bay otters.