African Spa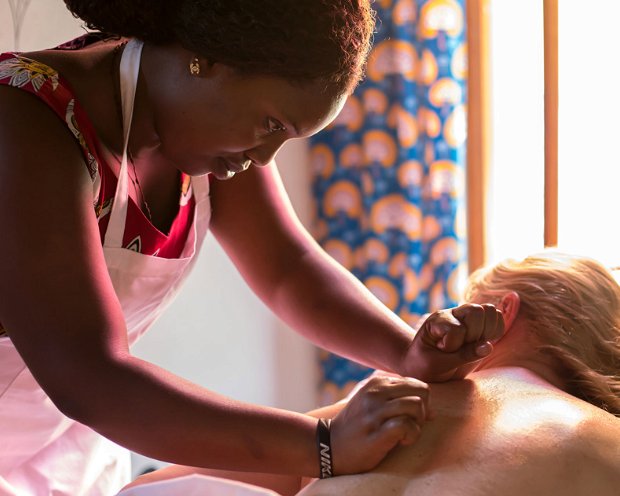 Full Body
60 mins. $40
Perfect to relax the body and mind, the masseur starts at the head and makes his way down the back to your toes. The combination of massage and oils offer relief from fatigue and pain after a long day of activities. It especially helps to improve disorders in the motion apparatus and restores tired muscles.
Head and Shoulders
30 mins. $20
This classic massage will reset your spirit after a long day on Uganda's roads. It soothes away tension in your upper body and breaks down knots. Through stimulation of nerves and increased blood circulation you will feel relaxed and rejuvenated.
Foot Massage
30 mins. $20
Also known as "foot reflexology", it is a deeply relaxing, powerful and therapeutic massage. By working with pressure points it helps to ease pain and discomfort caused by an intense day. Before or after gorilla tracking it decreases stress and anxiety in the entire body and helps you to calm down.
Express Pedicure
30 mins. $30
Nails and cuticles are groomed and nails shaped and polished, finished with your choice of nail colour.
Power Pedicure
60 mins. $50
A luxury foot and lower leg treatment using aromatherapy based products for softer, smoother feet and legs. Hard skin is removed and lower leg and feet massaged with deep conditioning creams. Cuticles are groomed and nails shaped and polished, finished with your choice of nail colour.
Organic Facial
60 mins. $80
We start your treatment with exfoliation to remove dead skin cells to allow our beautiful organic range penetrate deep into your skin. Depending on your skin type we chose a product you will enjoy during a gentle massage followed by a mask. This multi-step process is meant to rejuvenate and nourish, making your skin appear healthier and younger. We very much focus on the quality of products used. Our choice is Rissa Naturals, produced right at our doorstep, in Kampala/ Uganda. It provides 100% natural body care. Meticulously hand made with love and carefully selected ingredients to give your skin premium treatment! And of course you can purchase the products in our shop.