Dining, Lounge & Bar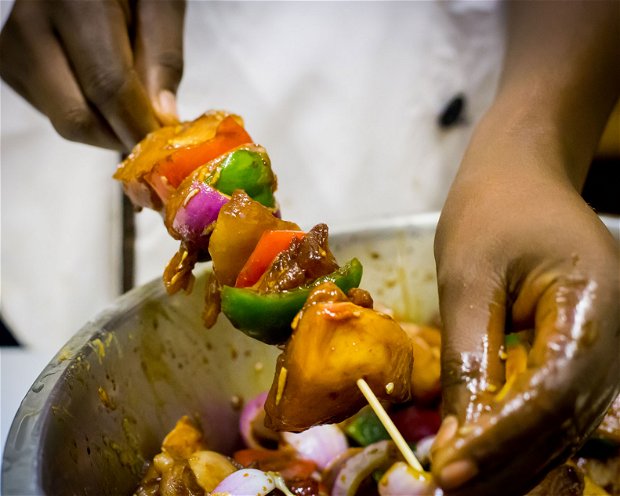 The spacious dining area with the adjacent wooden deck on top of the hill, offers a bird's eye view over the lake and beyond. The walls are decorated with colorful art and for those chilly evenings there is a romantic fireplace to make sure the ambience is perfect.
Chameleon Hills' reputation for delicious food has travelled far and wide; a fusion of different cultures, herbs and spices. Our team of chefs Moses & Eric are great at using the best local produce, mostly grown in our organic garden, to create fantastic dishes. Dinners are 3 courses. The starter is often a delicious fresh soup, e.g. cinnamon pumpkin or cream of mushroom, or Moses signature dish: chilly & honey egg duo, followed by a a hearty main dish. Some of the lodge favourites are charcoal roasted Ankole beef steak served with crispy parsley potatoes and mixed veggies. Or glazed chicken breasts served with arabic rice and buttered vegetables. The grand finale could be chocolate mousse or sticky banana caramel scrumble for dessert.
Breakfasts are designed to set guests up for the day. There is always a selection of fresh fruit, our popular homemade muesli & yoghurt, delicious pancakes with a hint of lemon zest, eggs of your choice and of course the full fry up expected from a luxury boutique lodge.
All the above accompanied by a selection of finest teas, famous Uganda coffee, even with chocolate and caramel flavours, freshly squeezed seasonal fruit juices. Let's not forget the heart of every meal: our wood-oven bread, baked with love. The kitchen can cater for any dietary requirements, be it vegetarian, gluten-free, vegan or lactose intolerant or local dishes. Just let us know any food you cannot eat or you dislike and we will prepare something to your taste.
Our lounge area with a stylish cement sofa, a soft couch and inviting armchairs spreads a sense of cosiness. As soon as the wood – we only use alien species like Eucalyptus – in the fireplace is lit and you bring back memories of your gorilla tracking experience earlier that day with a glass of wine in front of you: the world is just perfect.
Our bar is extremely well stocked so it is more than likely we can serve your favourite drink with a bowl of homemade nibbles. Our wine list boasts many South African wines and a few Australian and French.